12 Minutes Read
Winter is the perfect season to update your boot collection, and this year cowboy boots are awash with comfort, style and function. Simply pull them up, wear them hard and rock them for years.
Any self-respecting gent should have cowboy boots in their shoe arsenal. Immediately you put them on, they announce a guy who knows what he likes and isn't afraid to flaunt it.
Perhaps the biggest selling point is that they are built to last- from Ariat, Lucchese, Tony Lama and Justin, cowboy boots are meant to take a beating.
They look stunning whether you wear them for work, every day wear or at a costume party. Plus, they are as comfortable as they are stylish.
So why not embrace your inner ''Duke'' and check out our list of the best cowboy boots for men in 2020?
Top 10 Best Western Boots For Men
1
Ariat Men's Heritage R Toe Western Cowboy Boot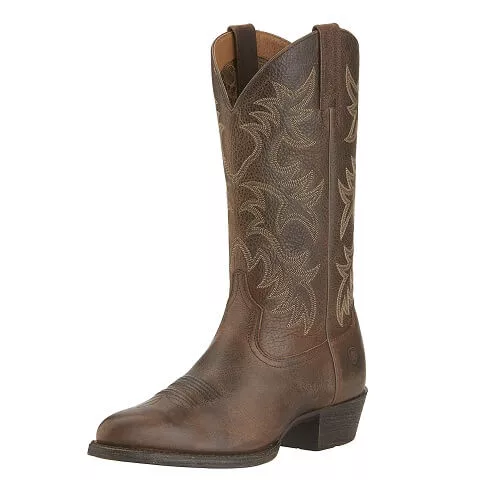 The Ariat Men's Heritage boots are top of the line in terms of quality. For starters, these boots will most likely cost you less than $200. And the fact that they are 100% full grain leather means the price is simply perfect.
What I loved most about the Ariat Heritage boot is that it doesn't try to be flashy. Aside from the stylistic stitching on the shaft, there are no screaming bells and whistles as seen in most cowboy boots.
If you do love the idea of cowboy boots but don't necessarily appreciate the flashiness of some boots, this is the ideal pair for you. I honestly feel like this is the best cowboy boot right now, and another massive number of customers who've rated theses boots seem to agree with me.
The Ariat Heritage comes in a little worn than it appears, but it's extremely comfortable. The company has heavily invested in comfort and stability. At the top is a moisture wicking footbed. Under this is a gel cushioned footbed for shock absorption. Below it is a lightweight composite forked shank to provide stability. And finally, a Duratread outsole and 1.6" Western heel for maximum wear resistance.
What's more? The Ariat's Exclusive ATS (Advanced Torque Stability) cushion that supports your feet reducing fatigue and promoting balance and posture. Available in black deer tan and distressed brown, these Heritage Western boots have a sharp look and are ready to take whatever you got for them! You can wear these boots to work as they are durable enough to withstand daily use.
100% leather
Leather lined shaft
ATS technology
Medium round toe
Detailed stitching on shaft
Duratread outsole
1.6" Western heel
May run small, so it's advisable to go for a size higher when buying
Heavy compared to other brands of bike seats
2
Durango Rebel Patriotic Pull-On Flag Boot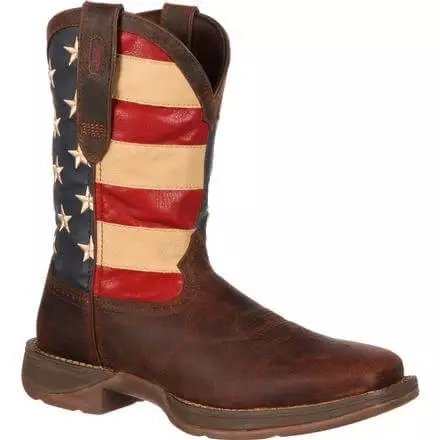 The Rebel Patriotic by Durango will easily be the most attention-grabbing shoe in your wardrobe. They are the real deal when it comes to cowboy boots and will cost you anywhere from 140 to 270 bucks depending on your size and preference.
The upper has the American flag covering the entire 12 inch shaft. The full-grain dark brown leather has a stunning distressed finish, and the round wide square toe and pull tabs make it possible to pull the boot on and off seamlessly.
The cushioned footbed is contoured, removable and has excellent ventilation. You can be sure you'll get blissful cushioning that will keep your feet smelling fresh all day. The best part is that since the footbed is removable, you can always add more cushioning once it begins to wear out.
As you walk, you are guaranteed of 100% stability because the boot features a tempered steel shank. The double row welt stitch also offers additional durability.
To me, these boots are instant showstoppers and they may even occupy the number 1 spot on this list. However, keep in mind that they take time to break in. Give them at least a month to break in for maximum comfort and support.
In essence, these 12'' Rebel Patriotic boots by Durango are comfortable, stylish and patriotic. If you want an authentic boot to showcase your patriotism to the country, these are simply the perfect cowboy boots for you.
12 inch shaft displaying the American flag
Foot, trim and pull tabs are made from dark brown full-grain leather
Wide Square toe
Double row welt stitching for additional durability
Tempered steel shank
They may take up to 1 month to break in for maximum comfort
Not appropriate for work boots
3
Laredo Men's Lodi Western Boot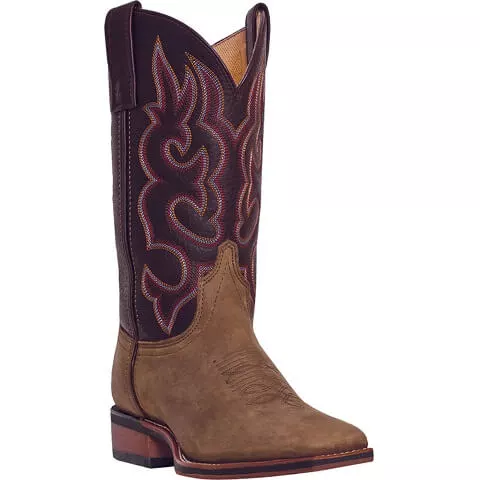 Laredo Men's Lodi Western boot is all round the best value for your money. Depending on your size and taste, this boot will cost you anywhere between 90 and 160 bucks. This is way cheaper than what most other boots cost.
The boot comes in 9 different color options. It looks best in brown, but the blacks are also really cute. It is made of imported leather, but has a synthetic sole. The synthetics are not noticeable because the entire boot is made of leather, and even though synthetic soles take less time to break in, I'd prefer a leather sole for cowboy boots anytime.
The shaft measures approximately 11.5 inches from arch and the boot circumference is 14 inches around. This makes it a classic for men's cowboy boots. Most people have found out that the boot runs large, and may require thick socks or inserts. As a rule of thumb for this boot pair, invest in one that's one size smaller for the perfect fit.
Everything else aside, I do love these shoes! I was extremely satisfied with the level of comfort and support they got. There's no struggle with fitting your calves and its break in period is a brief one. The broad square toe and the double stitched welt add to its durability.
This boot isn't the best pair available. The leather also isn't top-notch, and the heel is synthetic, but you get an amazing deal nonetheless. If you don't ride horses, but want a classic Western cowboy boot for everyday wear, this is the pair for you.
Imported leather
11.5 inch shaft height
Cushioned insole
Broad square toe and double stitched welt
Offers very little toe protection
The boot runs a little large, and you may need to order half a size smaller
4
Old West Men's Cowboy Boots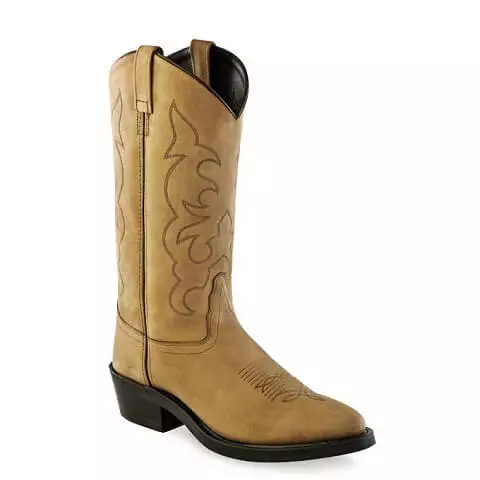 If you're looking to add a little flair to your style, then the Old West Cowboy Boots will do just that. This boot is going to set you back between $50 and $100, but it does a pretty decent job on a seemingly difficult task.
Available in light Apache color, the entire 13.5 inch shaft is made of leather, except for the sole which is made of rubber for more traction. The heel is tiny, only about 1.25 inches long.
It features a rounded toe which is a little pointed, but is large enough to accommodate your toes. The sole is extremely thick and sturdy, you could wear these for years in a chemical cleaning factory.
If you're looking for tough cowboy boots for some serious work, this is the best pair for the job. They run a little small, and Old West Boots recommends you buy one half size larger than your normal boot size for a perfect fit. If you're a size 10.5, you should order a size 11 boot.
Made of leather
Has a strong rubber sole
Shaft measures 13.5 inches
Extremely affordable
Tends to run small, and you may have to order half a size bigger
Not very waterproof
5
Dan Post Men's Milwaukee 13" Western Boot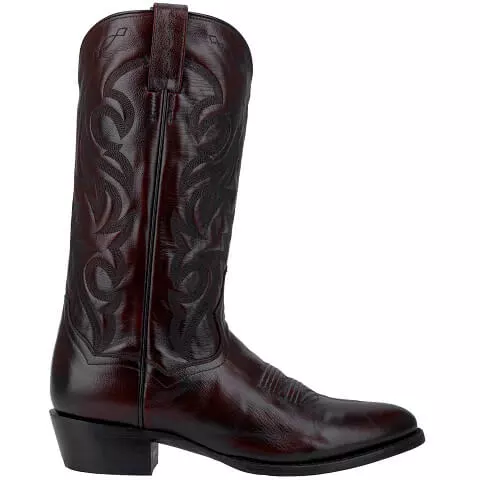 The Dan Post Milwaukee 13'' boot hit the nail right on the head with this Western classic. This boot delivers the promise of comfort and style and sets itself right ahead of its competitors. It will dent your wallet by $130 to $200, but you get what you pay for and so much more.
First off, if you're looking for walking comfort, the Dan Post got you covered. The boot has a heavily cushioned insole that will give you day and night comfort. Best of all, it's built to last, and can take a beating for decades without the usual wear and tear most other boots have.
You'll be thrilled to know that it's 100% leather. Mignon leather to be precise. For starters, mignon is a fancy way of saying cowhide. Full-grain 100% leather, indeed.
And if you're wondering how this boot is made, just know it's handcrafted, and not machine made. Further, if you're looking for durability, it has welted construction- the strongest way to pull up all the leather together.
The entire 13 inch shaft is made of beautiful elaborate stitching. No one will ask you if you're wearing Western style cowboy boots, they'll simply admire from afar.
With a 1.5 inch heel and a boot opening of about 14 inches, these shoes are perfect for casual riders or those who need a pair of cowboy boots to stroll around their new town. They fit right out of the box and are available in 4 different color options.
100% leather
Handcrafted to last
Cushioned insole
Welted construction
A few buyers have complained of fit issues
Ordering issues
6
Guide Gear Men's 12" Cowboy Boots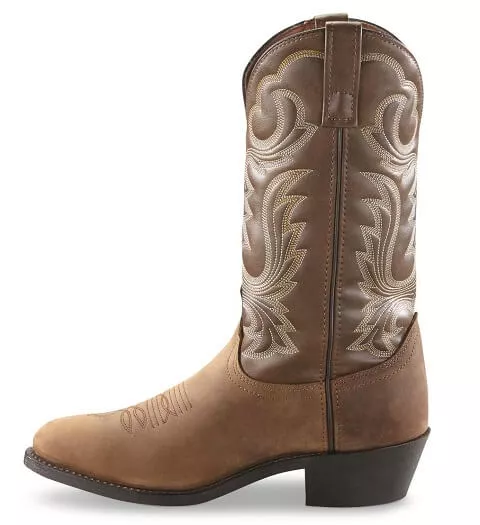 Coming in at number six are these amazing cowboy boots from Guide Gear. These boots are the perfect choice for environmentalists because they are made from materials that are animal friendly.
At first, I was hesitant to try them out because they are not entirely leather (but a blend of leather and synthetic), but I was amazed at how stunning they look in tan and black colors, and how nice their texture was.
The stylistic stitching across the entire 12 inch shaft is something else. It oozes cowboy vibe and so much more. Plus the boot comes with a subtle 2-inch heel and rubber soles that makes walking in them extremely comfortable. What's more? The shaft lining and the insoles are padded for extra comfort and support.
You'll be amazed that even with its knee-high length, it's still pretty easy to get them on and off thanks to the pull-on loops on either sides of the boot. The best part? They are exceptionally light- you won't ever have to worry about fatigue even if you spend the whole day and night in them.
Environmentally friendly
Unique stitching across the shaft
Perfect fit
Not particularly suitable for people with wider feet
Knee-high shaft may get uncomfortable after sometime
7
Roper Men's American Flag Western Boot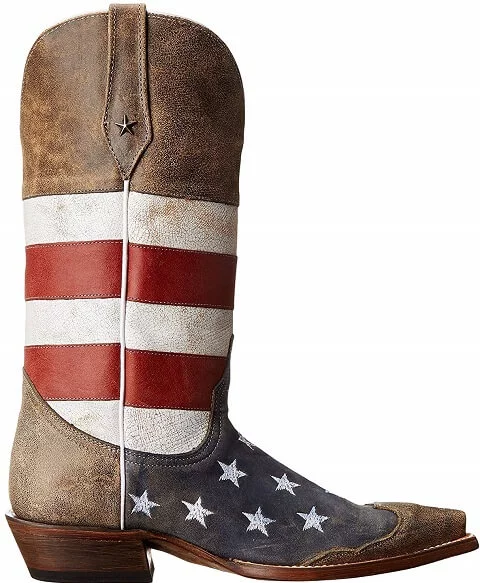 The Roper American Flag Western boot is loved by a good number of men. It boasts of a genuine patriotic look and a smooth, cozy interior.
This striking style is appropriate for a number of events and goes well with several outfits. The shaft which measures 14 inches from the arch is made of classy distressed leather bearing the American flag in its full glory.
The heel has a nice height and is extremely supportive. It has a nailed leather outsole which will keep you well balanced on almost any surface. This means the likelihood of falling is non-existent. It's also non-skid to prevent staining the floors you walk on.
The interior lining is well cushioned and feels warm and comfortable. It will handle most factors and function well both indoors and outdoors. I loved the fact that it prevents sweating and is less prone to odor. Besides, the brown color is stylish and won't come off for many years.
Good quality and durable
Thick and long-lasting leather
Single welt construction for durability
Good support and extremely comfortable
May feel a bit tight the first time
Not suitable for most occasions
8
Smoky Mountain Denver Western Cowboy Boot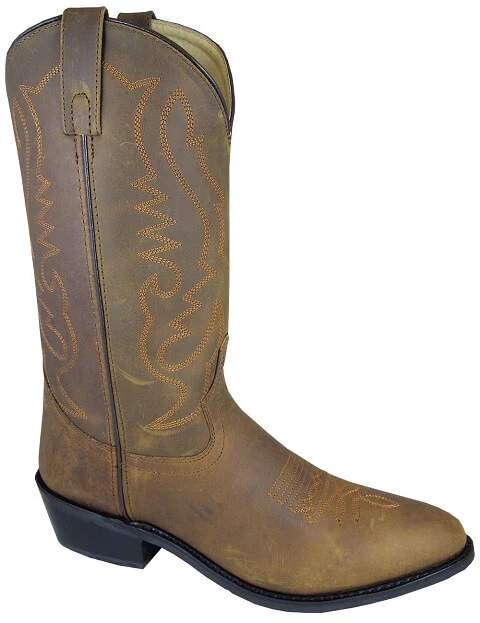 Whether you choose to go riding or hit downtown streets, these stylish Smoky Denver Cowboy boots are a great way to do so. They are designed from high-quality leather built to last for decades. In addition, these boots sport a super attractive Western finish.
Are they as comfortable as they look? Certainly. This is mostly due to the shaft lining that gives you comfort all day long, as well as the insole cushioning that oozes support and stability.
You can wear these boots for 24 hours straight and not feel like taking them off. They are all-rounders, and go well with anything from shorts to formal jeans.
What else do I love about them? Well, I love the Western toe which is just the right height, the steel shank which provides additional protection and support, and the rubber sole whose job is to absorb shock for an extra soft grip and landing.
Try these stunners as soon as you can, and you'll be amazed at how lovely and elegant they are.
Durable and comfortable
Smooth, cozy interior
Rubber sole provides perfect grip and traction
May take time to break in
Not 100% leather
9
Lucchese Men's Carson Leather Cowboy Boot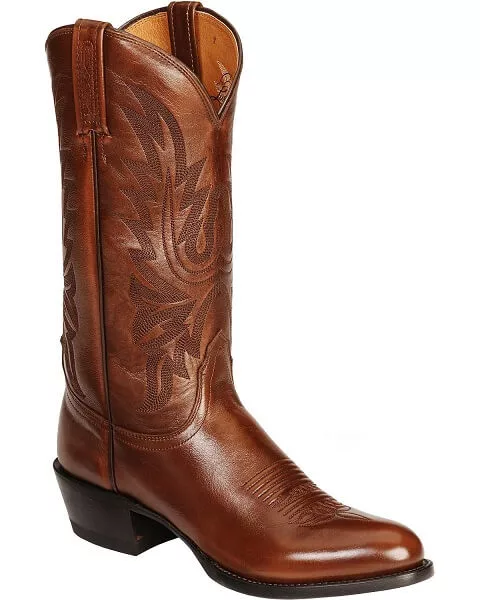 The Lucchese Carson is a simple yet elegant pair of cowboy boots made from 100% leather. The shaft measures 12.75 inches from the arch, the standard height for cowboy boots. The boot opening is 13.5 inches around. The boot comes in one really interesting color: antique brown.
Thanks to its minimalist look, you can rock these boots for horse riding, motorcycle riding or even hiking. You can also wear them around the city without feeling awkward or out of style.
The best part? They have thick padded insoles, and you'll enjoy all day and night comfort, regardless of where you are. Also, the insoles are constructed in such a way that they distribute the weight of your feet which reduces fatigue.
Despite the fact that the leather is sturdy, the boots are extremely flexible. You can bend without feeling restricted and attend to your work with ease. They also come with pull-on tabs which makes wearing and taking them off a breeze.
On the bottom, the Lucchese Carson boots come with a flexible leather outsole, which is highly durable and ready to give you endless amounts of support, traction and shock-absorption. The welt is nicely stitched, and the toe is rounded for maximum comfort of your toes.
Constructed from high quality leather and exceptional workmanship, you can rest assured that these cowboy boots will serve you for years.
Made of 100% leather
Truly stylish and elegant
Smooth, cozy interior
Suitable for different occasions and different attire
Fit issues, runs a bit small. It's recommended that you buy half a size larger
Not good for people with wide feet
10
Nocona Men's Legacy Equestrian Boot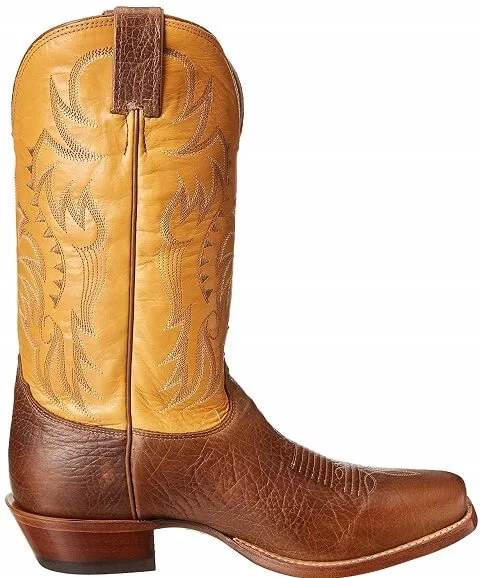 The Nocona Legacy boot comes with 100% cowhide, leather outsole and a funky heel. It is a tasteful equestrian style boot with a square toe. It comes in one color option- a dark wicker brown.
That said, the cowhide is strong and durable but Nocona really invested in the interior which is lined with comfortable and soft pig skin.
This boot has been well received by buyers all over the world. It has an amazing rating on Amazon for good reason. First off, it is comfortable, stylish and will last a really long time. Second, the sizing is perfect, and most reviewers found that they fit just right out of the box.
Let's talk about the bottom of the shoe. The bottom is durable and made of leather. It is exactly what you'd expect from a cowboy boot. The interior is the opposite. It is soft and comfortable. In fact, you'd think you're wearing regular comfortable shoes if you don't look down at your feet.
Overall, I appreciate the simple design but extreme attention to detail present in this boot. If you want a high-functioning, comfortable and trendy boot that won't dent your pocket this is the shoe to buy. Head over to Amazon and grab yourself a pair today.
Extremely comfortable
Very affordable
Lovely color and style
Perfect fit
Color may be slightly different from the photo
The leather isn't of top quality
How to Choose Great Cowboy Boots
Before you choose your Cowboy boot companion, there are several things you should know. Luckily for you, we have compiled 5 of the most important factors to keep in mind when buying a Western style boot:
1. Quality of Leather
Before anything else you should consider the quality of leather in the boot you're buying. If it's synthetic, check the quality of its faux leather. It should be smooth, and smell like leather. Bad leather is rugged and smells like plastic. If there are blotches, this is a sign that the boot was quickly put together in a machine.
2. Bottom of the Shoe
The best cowboy boots have a lather sole. While these take more time to break in, they are worth every penny in the long run. Cheap boots have rubber soles or some other low quality material. Good boots have a sole that is well stitched to the rest of the shoe for durability. Ripping is a common problem among cheap cowboy boots.
3. Sizing
You need to get the right fit when buying cowboy boots. If your feet are wider than the boot, you'll end up stretching out the leather. Not only is this ugly, but it will lead to ripping out sooner than later. It will also make the shoe lose form and appear worn out and saggy.
4. Comfort
Most people overlook comfort when purchasing a pair of cowboy boots. Just because the boot looks cool, doesn't mean it's automatically comfortable. You'll be walking in your boots for hours, and you need maximum comfort. The best cowboy boots feature padded insoles, cushioned interior and other features that make the shoe as comfortable as possible.
5. Type
There are many types of cowboy boots. Perhaps you're looking for cowboy boots for work or are simply after something comfortable for everyday use. Either way, different boots are suited for different needs. For instance, riding boots are extra high and sport a pointy toe, work boots are minimalist and designed for comfort, classic western style boots are smaller with a tiny heel. Before you decide on a pair, be sure they can fit your style and purpose.
Takeaway
What are you looking for exactly? Something versatile for everyday use, or something more specific for particular use? Whether you're looking for a boot to add to your shoe arsenal, or a stylish companion for your special feet, there is something for you out there- we hope you've found a perfect pair on this list.
Whatever your preference is, I personally recommend leather, even though there are equally good synthetic options to choose from. Make sure the leather is top quality, and above anything else, make sure the boot fits just right. Well, we've come to the end of our round-up. What next? Head over to Amazon and check out the best cowboy boot options for you.
Please Rate This Article
SEND